(Dr. Anita Arora Coaching)
"DAAC" (Dr Anita Arora Coaching), a Physics & Maths Coaching, was founded in 2001 by Dr Anita Arora, Ph.D (Physics) in Bangaluru, India.
DAAC prepares students of Classes 11th and 12th – CBSE & ISC for achieving high scores in their board exams, and also provides impacted support for competitive exams specially for IIT – JEE.
Our experience and belief is that Quality Learning can be achieved only in a "GROUP COACHING" and not in MASS COACHING.
After the COVID 19, DAAC has quickly and successfully switched to the virtual realm and moved towards Online classes with the intent of expanding its outreach beyond Geographical boundaries, still adopting the GROUP COACHING approach and indivisualised doubt solving sessions.

In an online setting, we maintain the same level of "innovative & interactive discussions" that our Offline classes could achieve; this makes us unique and of top quality as compared to other online classes.
About Dr Anita Arora - Director & Founder of DAAC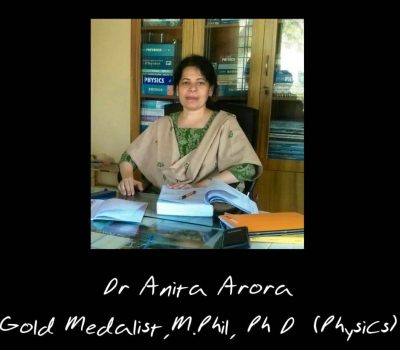 Here is what Dr. Anita Arora says about her Active Coaching:

"My education, training and extensive experience allow me to guide my students to provide them with the tools and methods needed to achieve their goals.
The success stories reflect my ability in helping my students improve their performance, not only in their exams but also provide them a direction in their career, ultimately achieving a higher level of life satisfaction than their peers" .
Holds a Doctorate Degree ie Ph.D in Physics
Gold Medalist –  awarded  in Post Graduation  M.Sc, Physics
University rank holder in M.Phil (Physics)
 Has been a rank holder all through her schooling up to University exams
Worked as Lecturer in National Institute of Technology in Bhopal
Awarded Post Doctoral Research Fellowship –  IIT (Delhi) 
Recommended for Post Doctoral Research Fellowship at IISC, Bangalore
Worked as Faculty at BMS College of Engineering in Bangalore
Even with a sound and ambitious career potential, Dr. Anita Arora's passion for teaching remained un-fulfilled even after getting such prestigious assignments. She declined all of them and finally ventured into starting her Coaching for Physics & Maths, single handed.
Her motto right from the beginning, was to always to keep things simple, which she brought into her Coaching as one of the Best Practices. Her experience has put DAAC at a major advantage and separates it from the competition.

She was always fascinated with Benjamin Franklin's quote and sincerely believed in it –
"TELL ME AND I FORGET. TEACH ME AND I REMEMBER. INVOLVE ME AND I LEARN."
With these core values, Dr. Anita Arora founded her Coaching – DAAC, in 2001.
Our Approach "We do things differently"
We donot believe in doing what others are doing, rather we believe in standing out of the crowd and doing things innovatively. This makes the Coaching Different from other Coaching.

We adopt and embed Best Practices into our coaching as :
"OTHERS MAKE YOU DO... WE MAKE YOU UNDERSTAND ,,, TO DO IT YOURSELF"
Action oriented classes - students are encouraged to "Work-up their brains" and think logically, to solve numerical and answer tricky questions.
We believe in providing the students with the right tools and guidance required to enhance their knowledge & confidence level, transform his or her best efforts into success.
• "Knowledge & Concept Based Understanding" is the real thing which helps potential students to excel.
• NO COMPROMISE in delivering quality is our motive, which is possible only in small batches providing individualised attention to her students.
• A simple and fun loving style of teaching helps the students overcome the fear of the subject and develop a high level of confidence.
• All the questions in the mind of the students are answered while learning.
• Regular Q & A sessions alongside doubt clearing.
• Focused learning in small groups.
• Interactive Learning : Fruitful Group discussions & interaction with peers subject expert, makes learning fun and absorbing.
The focal point of our Coaching lies in sharpening the analytical skills of the students, developing their logical & critical thinking abilities & strengthening their understanding of core concepts, by solving thought-provoking questions.
We strongly believe that learning and understanding can be made very simple and easy, by explaining difficult concepts thru real-life application-oriented examples.
All sessions are designed powerfully, but delivered in a simple and fun-filled manner, so that the students do not feel the pressure & stress of understanding difficult topics.
Dr. Anita Arora is a gem of a faculty; her pride lies in the Excellent performances and achievements of her students. She believes that a teacher plays the most important role in shaping the student's career.

She has consistently stood by her strong belief that QUALITY LEARNING IN INTERACTIVE GROUPS, ASSURES SUCCESS OF HER STUDENTS.

At DAAC we invest equivalent amount of time and energy, hence we selectively choose those students only, who wish to use their brains to excel, rather than those who run behind the herd.

Over the years, 1000s of Students have studied at DAAC. Almost all Alumni of the Coaching are successfully engaged by multinational companies round the globe, thus making us proud.